Nevada Security Association
ABOUT
The Nevada Security Association is a 501c (6) non-profit trade association. We assist our members and promote professionalism in the industry. 
SECURITY
Members install, sell, monitor, and service intrusion and fire alarm systems, supervisory systems, access control, CCTV, as well as integrated systems and many other low-voltage system applications.
COMMUNICATION
The NSA holds meetings and events to facilitate the exchange of ideas and concerns, promote networking, and give back to our community. 
ADVOCACY
The NSA encourages the enactment of legislation beneficial to the electronic alarm system industry and in the public interest.
Our Mission
Provide a vehicle to promote growth and professionalism within the Electronic Security Industry throughout the State of Nevada. Education, awareness and a unified voice are three ways we will establish our members within our industry as premier providers of these services and products.
NSA Members are Professionals
NSA membership is voluntary. No company is required to join our association. Reputable companies in the industry belong to NSA because they desire to do business professionally and ethically, adhere to our Code of Ethics, want their employees to have better training, to be continually informed about their industry, to have better communication with our public safety partners and desire to have a strong voice in the industry.
We Help Nevada Consumers
We provide consumers with choices for licensed alarm companies and general security information.
Useful Resources for Businesses and Consumers
See the Meeting & Event tab and NSA newsletter for updated meeting info. Generally, we hold meetings quarterly on the third Wednesdays of the month beginning at 5:00 PM.
We provide helpful information on licenses required to operate a Security & Fire/Life Safety company in state of Nevada, Nevada Counties and various cities in Nevada.
We provide links to helpful industry contacts, organizations, and boards that can assist alarm companies in growing their business and staying compliant.
The Nevada Security Association is a source for consumers to find the security,  life safety and integrated alarm company that is right for you.
Our Accomplishments
Informative guest speakers at each membership meeting.
Informative website with industry links.
Communication with local authorities and municipalities regarding licensing, permits, fees, regulations affecting our industry.
Annual Youth Scholarships for children of community police and firefighters.
Education for industry professionals.
Community Outreach at local events.
Resource for the public and media concerning electronic security, life safety and integrated alarms.
Contact with our membership via email newsletters, social media, industry publications such as The Mirror.
Host successful Public Safety Luncheon annually during International Security Conference (ISC-West) in Las Vegas.
Active at industry Conferences & Events:

ISC-West Expo in Las Vegas
SIA/ISC Loves Security Welcome Reception
CAA Leadership Breakfast
District Week
ESX
TMA
ASIS
NFPA
CEDIA
Our Community
NSA Donates to Injured Police Officer's Fund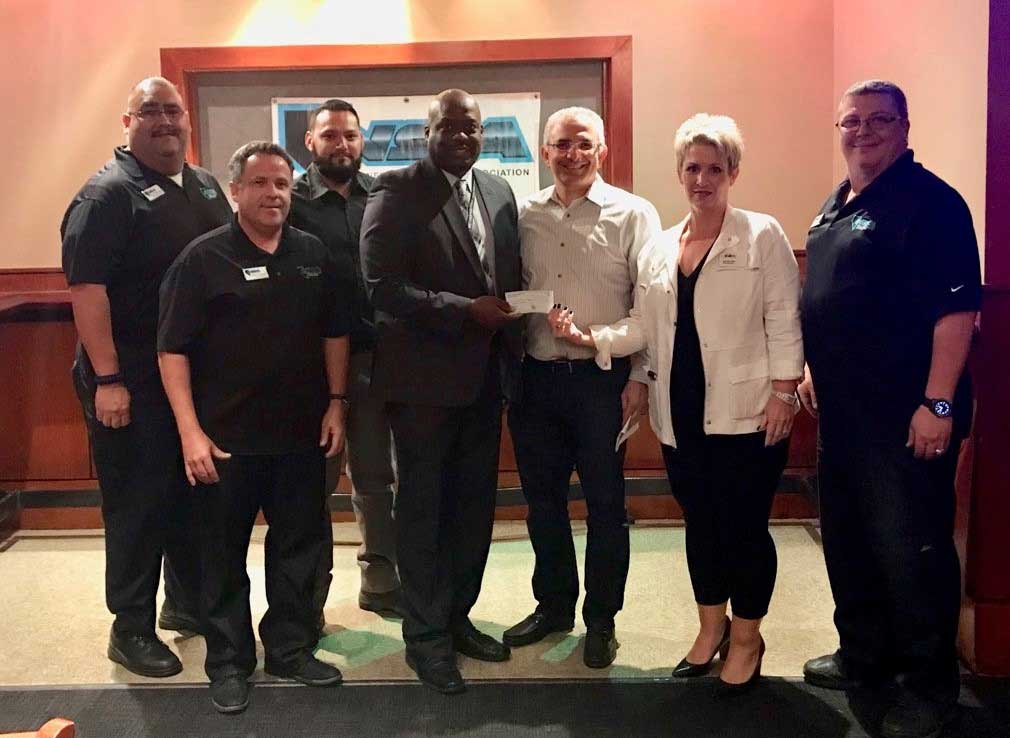 The Nevada Security Association presents donation to the Injured Police Officer's Fund to Las Vegas Metro PD Assistant Sheriff Tim Kelly. Left to Right: NSA Sergeant-At-Arms Alan Reza of ADT, NSA Past-President Greg Simmons of Eagle Sentry, NSA VP Manny Robles of Stanley Convergent Security, Las Vegas Metro PD Assistant Sheriff Tim Kelly, NSA President Jon Perry of Sting Alarm, ESA VP Dee Ann Harn of RFI, NSA Treasurer John Perdichizzi of ASAP Security.
Contact Us
For general inquiries or information on our organization, please use the contact information below or submit a message using the contact form.
1000 N Green Valley Pkwy. #440-643, Henderson, NV 89074